If you are not lucky enough to speak Greek, basic English will suffice. French is unfortunately losing ground, as it is all over the world. Forty years ago, French was synonymous with culture and distinction. Today, the Cretans still have a certain sympathy for France and the French. Finally, it should be noted that here people define themselves first as Cretans and then as Greeks. Does this remind you of anything?
The Cretans are very attached to their traditions and religion (they are almost 100% orthodox Christians). Therefore, avoid the behavior of an "entomologist" or a "Japanese" with phones and pictures. Be respectful and discreet. Women should wear decent clothes when visiting monasteries and churches. Men should also avoid visits in beachwear (yes, I've seen it!) or shorts. églises. Les hommes également doivent éviter les visites en tenue de plage (si, si, je l'ai déjà vu !) ou en short.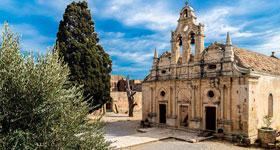 The main orthodox religious holidays are:
Christmas. A party in the family warmth, bringing together all generations within a family in the broadest sense, decorated with a traditional cuisine with smells, perfumes, tastes of yesteryear.
Easter. The Cretan and Greek religious festival par excellence. Here, secularism is not a value of the Republic, even if with the help of progress..., religious holidays are becoming more and more secular. Some years ago, almost everyone went to midnight mass on Saturday night, and the faithful lit their large candles with the "Holy Light" which they then took home. The feast, can then begin, after the 40 days of fasting. On Easter day, the tradition is to make a lamb on a spit, the occasion of an exceptional meal, well-watered and with music, to celebrate the resurrection of Christ and the arrival of spring. The Cretan cities and countryside, in the middle of spring, vibrate to the sounds of traditional music, intoxicated by the smell of the mechoui and the vapors of local wines.
The dormition of the Virgin Mary..This is another important Orthodox holiday that marks the beginning of the end of the summer vacation. After August 15 the Athenians, having spent their vacations in the places of their origins, return to their city occupations.
The holiday of the Patron saint of each town and village (the feast of the parish saint, or votive feast, in the south of France), apart from the inevitable mass, a traditional meal is organized the day before, on the village square, which, in reality, covers the terrace of a café or a restaurant and the road that crosses it..., bringing together all the villagers around a Cretan music orchestra and ending with songs and dances.