With its varied topography and landscapes, Crete offers visitors beaches to suit all tastes. Crystal-clear waters in every shade of blue. Pebble beaches, blond or pink sand, in front of Venetian castles, a forest of palm trees or cedars in the background. Here, we offer you a glimpse.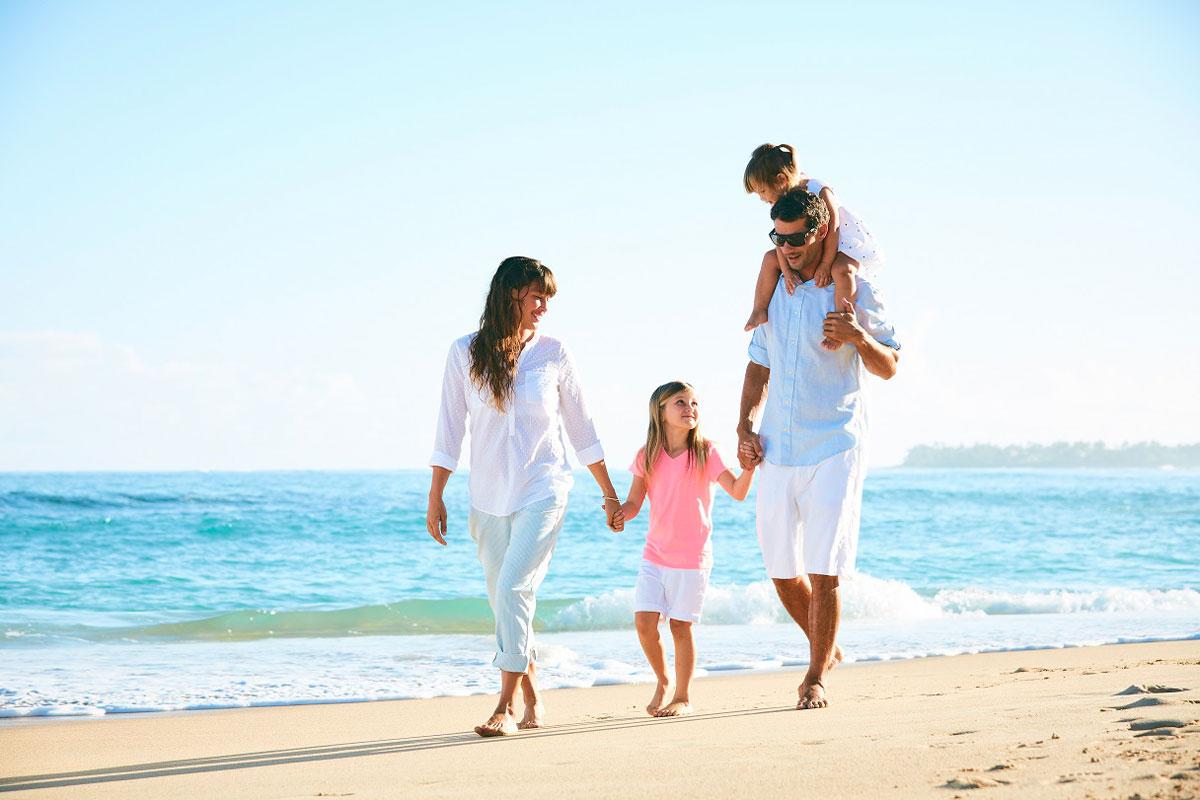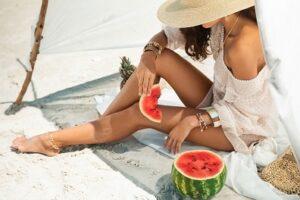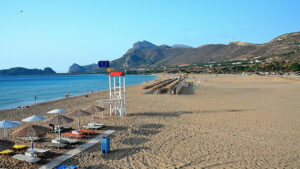 Falassarna is one of Crete's most popular beaches. Deep blue/green, tropical, shallow waters and fine, white and, in places, pink sand. This attracts a lot of people and it would be a good idea to avoid peak times, between 15 July and 15 August. But as the beach is very long, you just have to choose your place. To the left and right of the main beach, there are two other bays, also with sandy beaches. Sunset exceptional!
Tip: for a sea view and traditional Cretan cuisine, settle down in Spilios.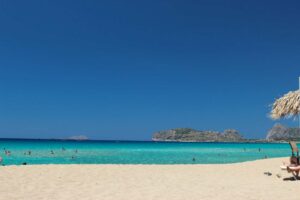 A nice place, and beautiful beach, but very busy in high season.
In July and August, it is best to go in the morning or late afternoon. At the breaking point of the peninsula, the water does not exceed half a meter in depth and a small lagoon with warm water is created, ideal for children. Thus, you can walk for several dozen meters, with your feet in warm translucent water, while carrying your personal belongings on a backpack.
This lagoon is part of the protected Natura network, as it is an ecosystem of exceptional ecological importance.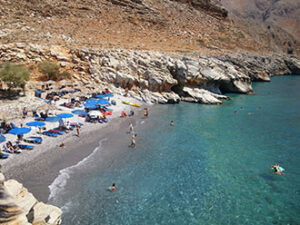 This beach with crystal clear and refreshing water is the right reward for those who have crossed the beautiful Aradena Gorge (3-4h walk).
20 years ago, this Marmara beach was confidential, it was a little paradise, frequented by a few connoisseurs, hikers and nudists, often Nordic. Today, it is accessible to tourists staying in the area. Loutro (15 mins by taxi-boat) and Chora Sfakion, a little further on. Caves with coloured rocks inside which you swim, and reflections of light on these rocks and on the water, make this a unique experience. A few parasols to protect you from the scorching sun during the hot hours of the day in summer.
There is also a straw hut where you can quench your thirst and eat, especially after crossing the gorges. Overlooking the sea and the beach, you can enjoy Cretan specialities and homemade dishes. Magnificent views.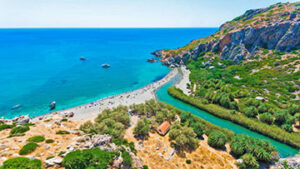 The Preveli site is 38 km south of Rethymnon in Crete and 10 km east of Plakias, below the Preveli Monastery.
. The beach of the same name is also known as Palm Beach and is a Preveli beach  or Palm beach. It's a 15-20 minute walk to get there. But it's well worth the effort. 
It is a beach of unique beauty in Crete, with a small forest of palm trees giving it an exotic feel. On the beach is the estuary of the river Kourtaliotis, which has plenty of water even in summer, forming a small lagoon before emptying into the sea. However, this famous beach attracts too many visitors and campers and, especially in high season, can become extremely crowded. In the 60s and 70s, it was a favourite destination for hippies.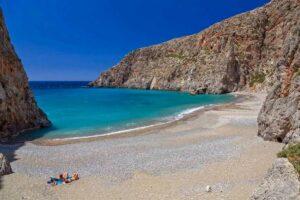 If there's one beach you won't forget, it's Agiofarago, south of Heraklion, with its impressive scenery and wonderful blue waters. It lies at the end of the gorge of the same name in the southern Cretan Sea. To get there, it's an easy 25-minute walk, within the gorges de Agiofarago.
These have been created by the beds of two rivers, which flow into the South Sea as far as the beach. From Flinty rocks, oleanders, wild olive trees, endemic plants, wild grasses, not forgetting the incessant flight of black swifts. Turtles have chosen this biotope and never migrate from this corner of Crete. Arriving at the Agiofarago beach is a well-deserved reward. It's a beautiful site, and the sea is very beautiful. Outside the high season (15 July - 15 August), the beach remains off-limits. Alternatively, some lucky visitors can access the beach by private boat.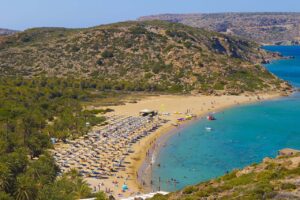 This is a exotic beach with Europe's only palm grove and is located 24 km east of Sitia. A beach of fine sand and small pebbles, a real oasis for the surrounding desert landscape. A well-equipped beach, with water sports, plenty of sun loungers, parasols, cafés, restaurants, etc. However, it gets very crowded in very high season. One solution is to get there early, around 9-10am, or in the late afternoon.
The palm trees here are indigenous and cover most of the small ravine down to the sea. As well as its aesthetic appeal, Vai is also of great biological value. The wetland created between the palm grove and the beach is important for birdlife, while in the sea an enormous wealth of marine life thrives. The drive from Sitia takes around 20 minutes. (for buses, see KTEL)