Plage de Vai, à l'est de la Crète

Falasarna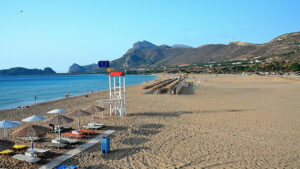 Deep blue/green, shallow tropical waters and fine white and, in some places, pink sand. This attracts a lot of people and it would be good to avoid peak hours, between July 15 and August 15. But as the beach is very long, you just have to choose your place. To the left and right of the main beach, there are two other bays, also with sandy beaches. Sunset exceptional!
Tip: for a sea view et une cuisine crétoise traditionnelle, installez-vous à la taverne Spilios.

Elafonisi (Elafonisos)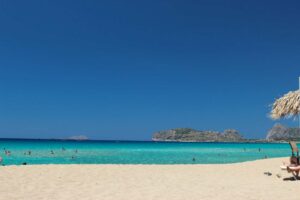 A nice place, and a very beautiful beach, but very busy in high season. In July and August, it is best to go in the morning or late afternoon. At the breaking point of the peninsula, the water does not exceed half a meter in depth and a small lagoon aux eaux chaudes est créé, idéal pour les enfants. Ainsi, on peut se balader sur plusieurs dizaines de mètres, les pieds dans une eau translucide et chaude, tout en emportant ses effets personnels sur un sac à dos.
Ce lagon fait partie du réseau protégé Natura, car il s'agit d'un écosystème d'une importance écologique exceptionnelle.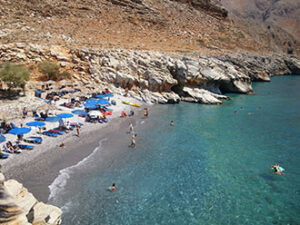 Marmara beach
This beach with crystal clear and refreshing water is the right reward for those who have crossed the beautiful Aradena Gorge (3-4h walk). 20 years ago, this
beach était confidentielle, c'était un petit paradis, fréquenté par quelque connaisseurs, les randonneurs, et des nudistes, souvent des  nordiques. Aujourd'hui, elle est accessible par les touristes qui séjournent à Loutro (15min en taxi-bateau) et à Chora Sfakion, un peu plus loin. Des grottes, aux rochers colorés, à l'intérieur desquelles vous nagez, et des reflets de lumière sur ces roches  et sur l'eau, rendent cette expérience unique. Quelques parasols pour se protéger d'un soleil brulant aux heures chaudes de la journée, en été.
A noter la présence d'une  paillote, pour vous désaltérer et vous restaurer, surtout après la traversée des gorges. Surplombant la mer et la plage, vous dégustez des spécialités crétoises et des plats maison. Vue splendide.

Preveli beach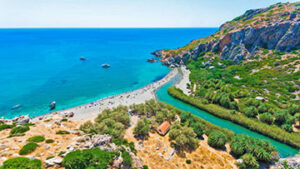 The area of Preveli is located about 38 km south of Rethymno in Crete, and 10 km east of Plakias, below the Preveli Monastery. The beach of the same name is also known as Palm Beach and is a sandy beach of a unique beauty in Crete with a small forest of palm trees that gives it an exotic look. On the beach is the estuary of the river Kourtaliotis, which has enough water, even in summer, forming a small lagoon before flowing into the sea. In the 60s and 70s, it was a favorite destination for hippies.

Agiofarago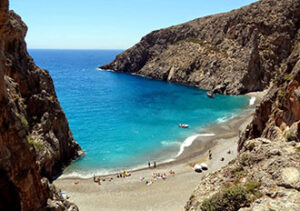 If there is a beach that you will not forget, it is
Agiofarago, located in the south of Heraklion, with an impressive site and its wonderful blue waters. It is located at the exit of the gorge of the same name in the south of the Cretan Sea. To get there, it is a 25 min walk, inside the gorge. Outside of the high season (July 15-August 15), the beach remains confidential. Otherwise, families can reach it by small private boat.

Agia Fotia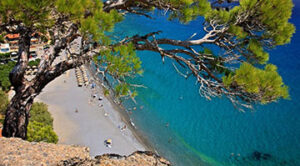 Les Crétois l'appellent Agia Fotini et se trouve à 13 km, à l'ouest d'Ierapetra. C'est l'une des plages les plus appréciées de la région, pour son beau site et le joli beach-bar-taverne de plage qui y opère. Beaucoup de jeunes, une plage de petits galets, des eaux profondes et claires et quelques tamaris pour l'ombre naturelle. De l'autre côté des rochers, du côté est, vous trouverez une autre plage, mais plus petite.
A noter, tout près d'Agia Fotia, à l'est, se trouve Koutsouras, où vous trouverez la taverne Kalliotzina, avec des plats traditionnels crétois, dans un site paisible et agréable.

Vai beach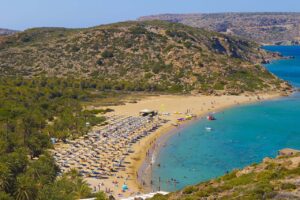 C'est une plage exotique avec la seule palmeraie d'Europe et est située à 24 km à l'est de Sitia. C'est une plage de sable fin et de galets, une véritable oasis pour le paysage désertique de l'est de la Crète. Bien équipée, avec des sports nautiques, de nombreux transats, parasols, cafés, restaurants, etc. Par contre, beaucoup de monde en très haute saison. Une solution est de s'y rendre tôt, vers 9-10h, ou en fin d'après midi.
Sur la belle plage de Vai se trouve la seule forêt de palmiers d'Europe avec la mer cristalline à l'extrémité nord de la province sur le cap Sidero, est un coin unique de la terre crétoise.
Les palmiers ici sont indigènes et couvrent la majeure partie du petit ravin jusqu'à la mer. Outre l'esthétique, Vai a également une grande valeur biologique. La zone humide créée entre la palmeraie et la plage est importante pour l'avifaune, tandis que dans la mer se développe une énorme richesse de vie marine. Le trajet en voiture depuis Sitia dure environ 20 minutes.