Hiking in the Agia Irini gorge
Hiking: Dans les gorges de Agia Irini.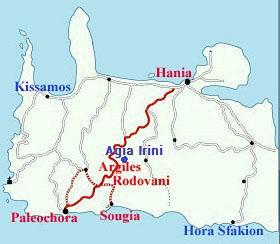 Location: Crète de l'ouest. Start point: Agia Irini, 555m. Spread out village, near the plateau of Omalos
Gps coordinates: N35.32451 E23.84353 (the northern entrance)
Length of grooves: 7.5 km (plus 2.5 km from the gorge exit to Sougia)
Duration: 3h – 3h30
Equipment: Hat, sun cream and plenty of water
Difficulty: None, if you choose the pathway.
Access: By bus from Chania (Hania or Chania), in the direction of Sougia.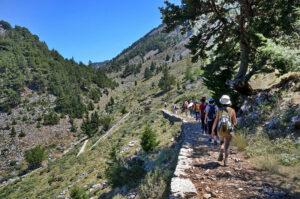 Three buses a day during the tourist season (see timetables and bookings on the website of KTEL). Duration of the trip Chania-Sougia 1h. Otherwise, you can go by car and leave it at the entrance of the gorges. At the end of your hike, you return by bus or taxi to pick it up.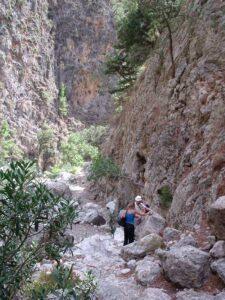 Un petit faible pour cette randonnée, surtout pour son splendide parcours dans un cadre sauvage.
Il y a encore quelques années, avant le tracé du sentier, un pied sûr et de la souplesse n'étaient pas superflus. Aujourd'hui, cette balade is within everyone's reach ( Agia Irini gorge. Picture). Si vous choisissez la difficulté, en dehors du sentier tracé, faites attention aux chutes de pierres. Pour toutes les balades, quand c'est possible, personnellement, je préfère aller vers l'aval, et à l'arrivée m'installer sur une terrasse au bord de l'eau et … arrêter le temps. C'est la récompense bien méritée. Un petit faible donc pour cette randonnée, surtout pour son splendide parcours (Agia Irini gorge. Picture) in a wild setting, a kind of Samaria but shorter (7,5 km).
Description of the Agia Irini Gorge hike
A very rich flora (cypresses, pines, plane trees, maples, carob trees, kermes oaks, oleanders, chaste trees, pistachio trees, wild olive trees, common myrtles, arbutus trees, thyme, oregano, Crete ebony, lavender, etc.) and a fauna that is not to be outdone (bearded vulture, golden eagle, Bonelli's eagle, griffon vulture, kestrel, choukar partridge, swallow, and small mammals such as the grey dormouse, hedgehog, weasel, marten, badger, and of course, the Cretan chamois, the famous kri-kri.
Inside the gorge there are two water points and toilets. And at the exit, the snack bar "Oasis" to recover your strength and refresh yourself.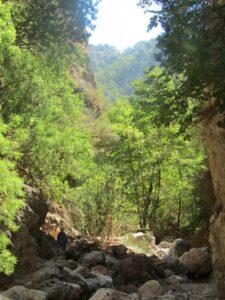 On the way back, we walk along the bed of the torrent, cross the bridge, and join the main road towards Sougia. This part of the walk is a bit painful if you can't stand the sun. You can try to hitchhike when you reach the main road, otherwise the last km seems endless... Otherwise, we can order a taxi to take you to Sougia or to go back up to the entrance of the gorges and get your car back. 
If you start early in the morning, you cross the gorge and arrive, without hurrying, in Sougia around noon. At 6.15 pm you take the bus from Sougia to Chania, which stops at the entrance of the gorge and you collect your car.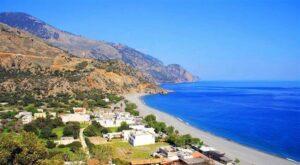 Finally, there is the possibility of using the boat link that connects the southern part of the county of Chania, namely: Paleochora, Sougia, Agia Roumeli, Loutro, Chora Sfakion, to go to another village in the south.  
A variant is to come to Sougia by boat and go upstream through the gorge. 
The village of Sougia, is a village built on the site of the port of the ancient city of Elyros. Very touristic, many taverns, pensions, a discotheque, a nice long pebble beach, and the nudist end. Chania region map, 
The article's editor: Nicolas Degeorges – Nikos Papadogeorgakis