Location: North-western point of the Crete. By car, 1 hour from Chania, 2 hours from Rethymnon and 4 hours from Heraklion.
Gps coordinates: N35.57954 E23.58876 (Balos beach)
Good time: May, June, September, October. In July-August it is very busy, especially at weekends.
Equipment Take some small provisions, in case the small canteen in Balos is closed. Swimming costume, hat, sun cream, water. Comfortable shoes for the walk down (leave flip-flops in your rucksack), on the paved path from the car park to the beach (20-30min).
 Natura 2000The Gramvousa Peninsula area is a protected habitat of the Natura 2000 network
The Balos lagoon, a lagoon at the end of the world in the heart of the Mediterranean, on a wild peninsula but a victim of its own success, especially in July and August.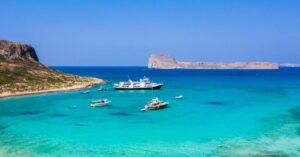 Balos is certainly the most photographed beach in Crete, a favourite subject of all the tourist guides. It is famous for its turquoise waters, wild natural beauty and wonderful exotic scenery. In summer,
is flooded daily by hundreds of visitors, most of whom arrive by boat from Kissamos.
Three ways to get to the Balos lagoon: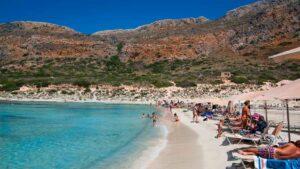 1. By bus
In summer, there are 3-4 buses from Chania to Balos. The first one at about 8 a.m., preferably to arrive before the crowds (see timetables and reservations on the company's website  KTEL).
On arrival, there is a 20-30min walk from the car park to the beach.
2. By car
From Chania, take the highway towards Kissamos, pass the port of Kissamos, and after 1 km, take the road towards the village of Kaliviani. End of the asphalt road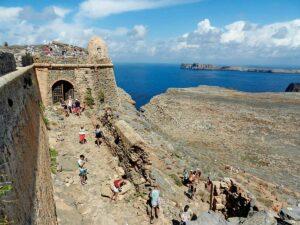 End of asphalt road and departure of a bumpy road, used by pick-ups, 4×4 or private cars. In this last case, to drive on this track, you have to go very slowly because there is a risk for the undercarriage, and in principle the rental car insurance does not cover it. 
On arrival, there is a unique view of the Balos lagoon. The island of Imeri Gramvousa can be seen, , it was occupied by the Turks in 1691 and later became a pirate's hideout, the tanks of which can still be seen on site.
Kazantzakis tells in his Letter to El Greco how his Saracen great-grandfather, "with a shaved head on his forehead and a long braid", used to attack ships carrying pilgrims to Mecca or Jerusalem and slaughtered both ...; one day he had captured a schooner loaded with spices, and not knowing what to do with them, he had them distributed to all the villages of Crete. The whole island was fragrant.
A variant is to leave the car in the village of Kaliviani, and walk the 10km of the trail. A nice project for hiking enthusiasts, provided you start early in the morning to avoid the heat. Duration 2h30.
3. By boat
During the tourist season, there are excursions by small boat from the port of Kissamos (2-3 departures, between 10am and 1pm, depending on the season, and return after 5-7pm). This is an excellent opportunity to visit the island of "Imeri" (the docile or domesticated) Gramvousa, which has provided shelter for boats since ancient times. Price of this 6-7 hour excursion (including swimming and a visit to the fort): €27 for adults and half price for children  See website  
During the tourist season, there are excursions by small boat from the port of Kissamos (2-3 departures, between 10am and 1pm, depending on the season, and return after 5-7pm). This is an excellent opportunity to visit the island of "Imeri" (the docile or domesticated) Gramvousa, which has provided shelter for boats since ancient times. Price of this 6-7 hour excursion (including swimming and a visit to the fort): €27 for adults and half price for children Top 10 in Crete)
The article's editor: Nicolas Degeorges – Nikos Papadogeorgakis