City map of Rethymnon
To see : venetian harbor and lighthouse, Venetian fort, chapels, cisterns, mosques, minarets, Byzantine, Venetian and Ottoman remains, museums, Venetian fountain...
Surrounded on the east by one of the largest sandy beaches of Crete (12 km) and on the west by a rocky coastline, Rethymnon is a charming city that has kept its Turkish and Venetian character. (see our page: Rethymnon area)
For what is interesting to see there, we have first of all the small Venetian fishing harbor with its Venetian lighthouse and some of the facades bearing the coats of arms of the Lords of the Serenissima. Since 1300, it has been constantly modified and rebuilt to make it safer and allow access to a greater number of boats. Due to the currents along the coast, it has never been completely successful. Even today it manages to maintain its picturesque character, as does the old town, which has been preserved in good condition with its public and private monuments, Venetian, Turkish and later.
The harbor " Fortezza " dating from the 16th century, bears witness to the Venetian domination. It was built between 1573 and 1583 according to the plans of the engineer Pallavicini to defend the city and the port against Turkish pirates. It has four bastions and three entrances, while to the north its design is typical of the period with three watchtowers (saliens). Inside the walls were barracks, depots, public buildings and a military hospital. Today, there are the ruins of the governor's palace, some cisterns, a chapel and a mosque (of Imbraem Chan) built by the Turks around 1648 on the site of the former church of Agios Nikolaos (1583). With a total length of 1400 m and a volume of 6000 m³, it is an imposing presence above the city. It stands on the site of an early medieval fortress and the ancient acropolis of Rethymnon. The view of the city of Rethymnon from the Fortezza is fascinating.
Located in the Venetian square (corner of "odos Vernadou" and "Ethnikis antistaseos" streets, the mosque Tis Nérandzès est la plus grande mosquée de Rethymnon. Achevée en 1657 par le Pasha turc Gazi Hussein, elle est une modification de l'église de Santa Maria et d'un monastère augustin. Le coeur est recouvert par 3 voûtes. L'extérieur est dominé par l'imposant minaret construit en 1890 dont le minaret possède 133 marches. Suite au mauvais état du minaret, son accès en est interdit. Dans la rue longeant la mosquée, nous pouvons admirer des maisons à l'architecture intéressante. Sur la place des 4 martyrs, 4 chrétiens furent décapités par les Turcs en 1824.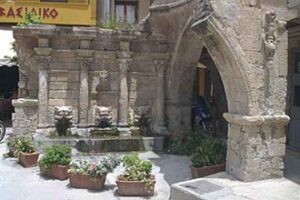 Un monastère turc a été construit autour de la mosquée Veli Pasha. Il en reste 13 caves en enfilade (à l'est). L'entrée est de style toscan et le minaret date de 1789. Le bâtiment principal est couvert par 6 petites voûtes. Sous la domination turque, la Loggia a été transformée en mosquée. Son minaret s'effondra en 1930. Le hamam turc est situé « odos Radamanthe » et constituée de 2 grandes pièces couvertes par des voûtes en demi cercle.
L'église « Kyra ton Aggelon » (1609) est constituée de 3 nefs sans voûtes. L'ancienne cathédrale catholique d'Agios Frangiskos, construite au XIIIème siècle, sert actuellement de salle d'exposition.
The Venetian Rimondi Fountain (1629), in Petyhaki Square, has a structure of Corinthian columns between which lions' heads spit water.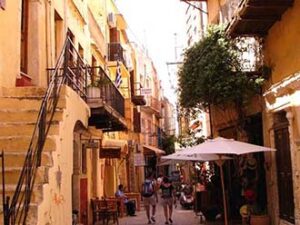 Museums include the Archaeological Museum (near the entrance to the fortress) with artefacts from Minoan and Roman sites in the area, the Sea Museum (odos Arambatzoglou) with various marine animals, the Folk Art Museum and the Gallery of the painter Lefteris Kanakakis (odos Himarras) with some sculptures.
Rethymnon is still other minarets and mosques (Kara Mousa, Veli Pasha...), narrow streets, airy squares and wooden corbelled houses, Byzantine and Hellenic-Roman remains, the great gate...
Idea for a walk : Départ par l'odos Koundourioti qui sépare l'ancienne de la nouvelle ville. Passage par le parc municipal, la place des 4 martyrs, mosquée Veli Pasha, direction le port vénitien puis la loggia située au coin des odos Palaiologou et Arkadi. Continuer l'odos Palaiologou jusqu'à la Platia Pétychaki où se trouve la fontaine Rimondi. Au bout de la place, la rue de Thessalonique contient quelques façades de maisons vénitiennes. Direction du Hamam turc par l'odos Radamanthe puis l'église Kyra ton Aggelon et ensuite la forteresse et son musée archéologique. (voir notre page sur Rethymnon)
Source: "grecomania"